Gilmore Looms
1032 N. Broadway Ave.
Stockton, CA 95205-3928
Phone: (209) 463-1545

weavinginfo@gilmorelooms.com
Many weavers have requested that we make a small loom that can easily be transported to classes or that would not take up as much space as the larger Compact looms. Gilmore Looms used to make such a loom, the Little Gem. Many weavers have these Gems and cherish them. Whenever a used one is available it is instantly snatched up. So Gilmore Looms decided to bring the Little Gem back.
We listened to the owners of the older Gems. And decided to, not only bring the Gem back, but to modify it in such a way as to improve any quirks it might have had. Thus the new GEM II was born.
This GEM II is made from poplar, as Mr. Gilmore's older one was. This makes it weigh only slightly more than 50 pounds, yet it does not slide around on the floor as you weave. The support leg structure is made of sturdy mortise and tenon joints. The poplar wood can have a lot of "character" with colors ranging from white, to green, to almost black.
The GEM II weaves 22 inches wide. It is made so the weaver can sit in a regular chair and weave. The woven cloth goes up around a "knee bar" then to the cloth beam. This keeps the cloth away from your knees and allows even the tallest of weavers to sit comfortably into the loom.
This loom is a "jack" type loom, as all Gilmore's are. It has 8 harnesses and 10 treadles! It has a generous shed and accommodates 23 1/2" inch reeds.
The front cloth beam is a ratchet type, with the advance handle on the right side.
The warp beam has a cable on a hardwood drum friction brake. This brake can be released from the front, using a foot pedal, or released from the back where there is also a brake release pedal.


A specially designed beater bar lock that will not harm the beater legs, and beater cushions are installed as standard equipment.
Included with each loom is a stainless steel reed (specify dent), a sley hook, a Gilmore small boat shuttle with bobbin, 2 lease sticks, 50 heddles per harness/shaft, and two dozen Texsolv treadle cord and arrow sets.
(Click Here for GEM II pricing information)
Optional GEM II Choices:

(click here for pricing on GEM II options)
GEM II Top Tray:
The Gem tray is made of solid wood. The legs that hold the tray up above the jack ends, or castle, fold underneath it when removed from the loom. This way your weaving things can stay in the tray as you take it off to transport the loom. This tray, as with the "compact" loom tray, is installed at the factory and not sent out as a kit. Another option is to add a 13" fluorescent Tray Light which will light up your weaving area.

GEM II Front Cloth Tray:
The Front Cloth Tray is and accessory that many weavers have asked for to go with their GEM. It fits over the Breast Beam and is secured tightly. It runs the whole length of the Breast Beam and has plenty of room for shuttles and bobbins. Once you have set it for your beam you do not have to change the settings. The Front Cloth Tray can stay on the GEM when you fold it up. If you want to remove it all you have to do is release a Velcro strap and slip the whole Tray upward and off.
This Tray will fit older GEM looms too. Just give us the inside measurements of your Breast Beam when ordering.

| | | | | | |
| --- | --- | --- | --- | --- | --- |
| Width | Harnesses | Treadles | Dimensions | Dimensions | Weight |
| | | | | | |
Gem II specifications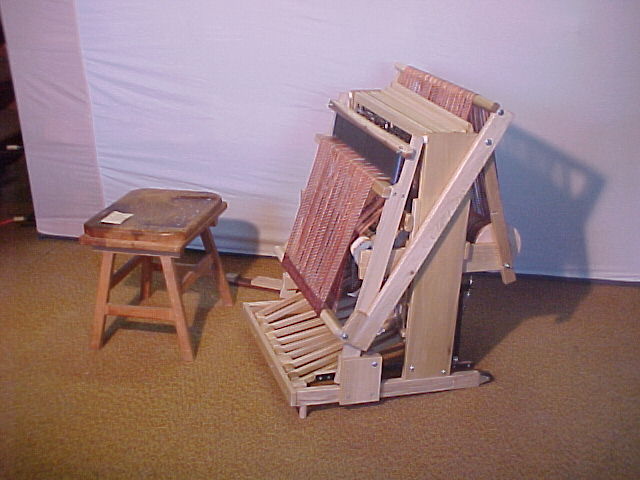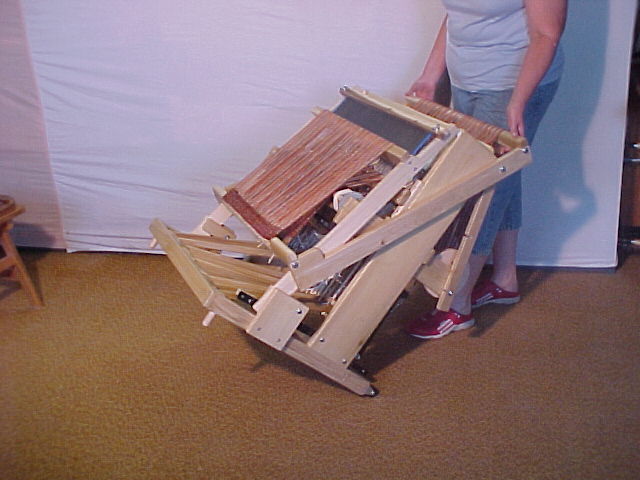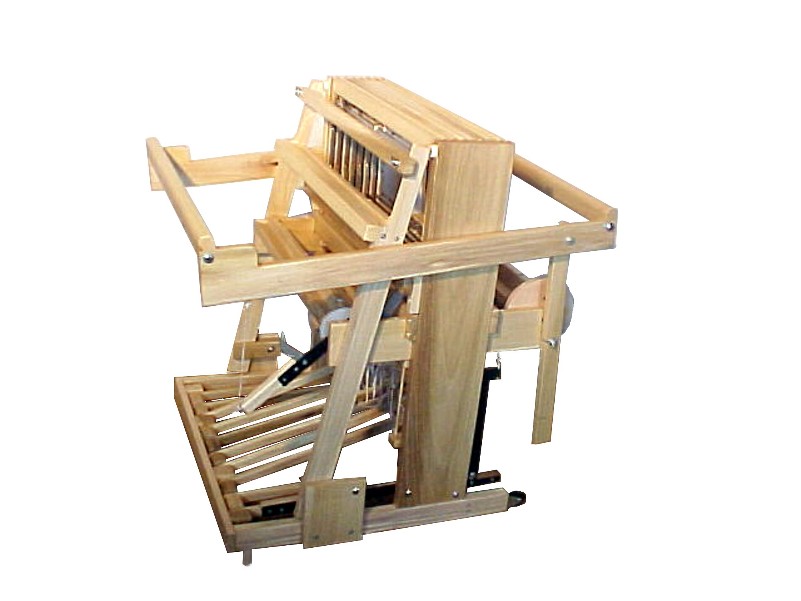 _The GEM II_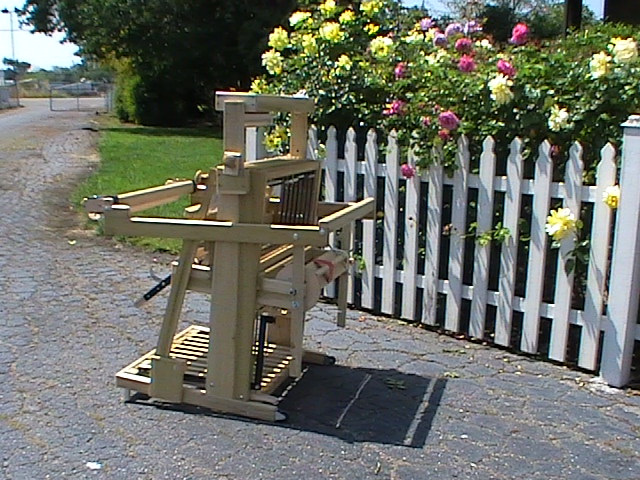 Back View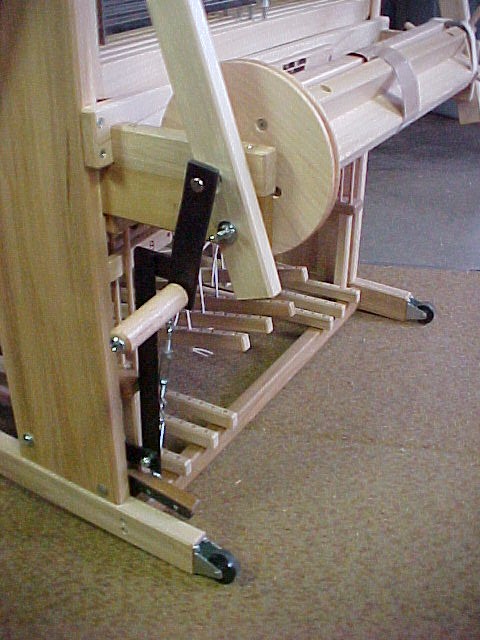 Top Tray
Front Cloth Tray
Weaving class of GEM II looms at Asilomar in Pacific Grove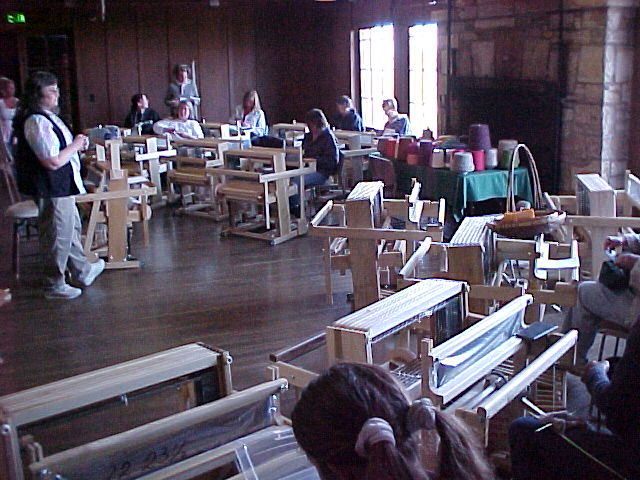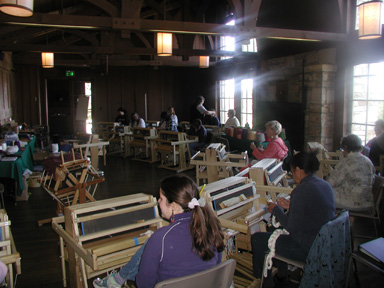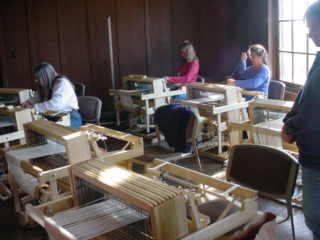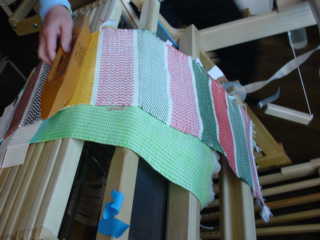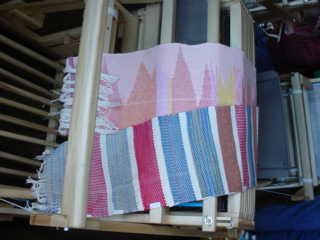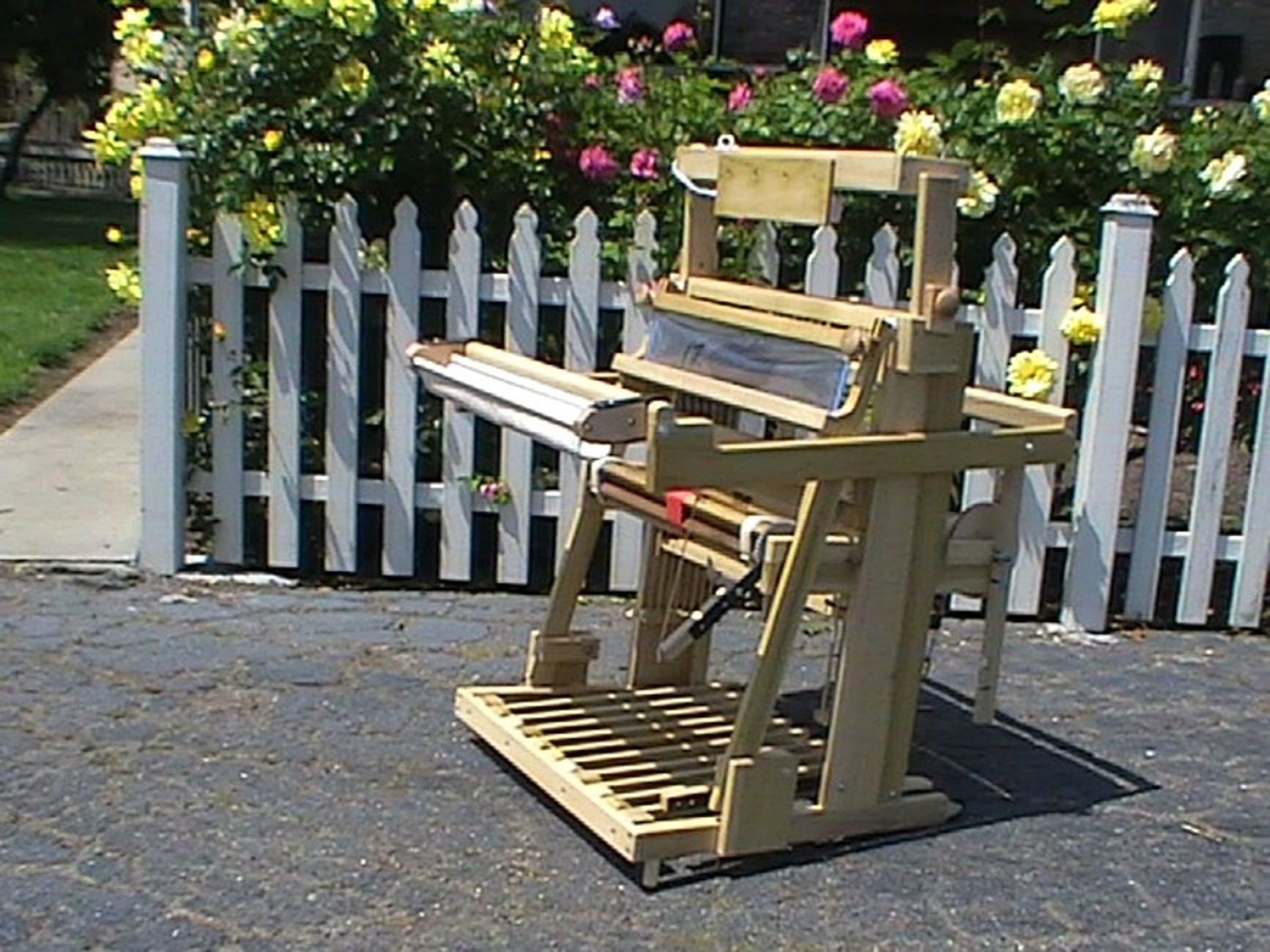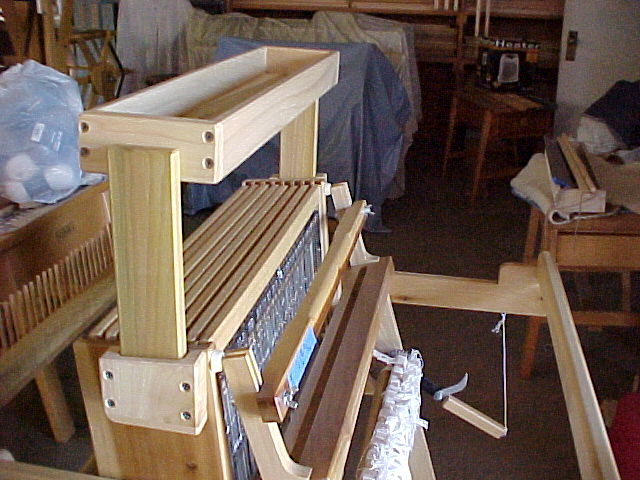 ---
---